Metro West Thunder offers travel teams in the 12u, 14u, 16u and 18u divisions. All our coaches are non parent coaches.  We have our own state of the art indoor facility,  Sluggers Academy and our own strength and conditioning coach.  For more information about the program, team schedules and coaches  Please contact program director Mark Hernandez at coachmark6@gmail.com or by phone at (508) 353-1500.    

INTERESTED IN PLAYING FOR METROWEST THUNDER - CONTACT MARK AT COACHMARK6@GMAIL.COM OR 508-353-1500

Metro West Thunder Coaches
18U Red - Mark Hernandez &  Dario Alvarez
18U Black - Abby Hewett & Alyssa Mabardy

16U Jenna LoVasco

12U - Mark Hernandez & Anna Dziok

CLINIC HERE TO PURCHASE YOUR METROWEST THUNDER GEAR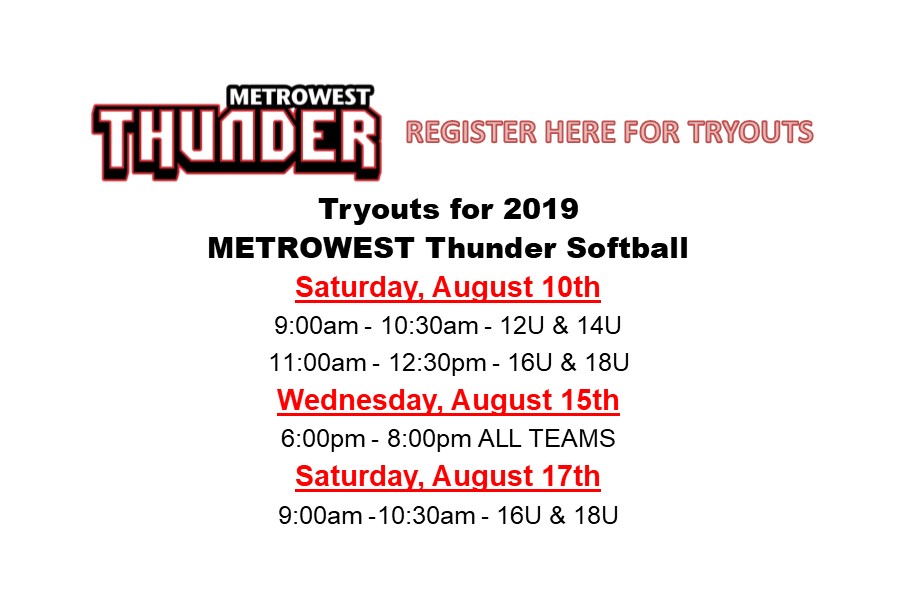 Each MWT teams to have two dedicated coaches (non-parent)
Each MWT team will carry a roster of 12-14 players
Weekly winter practices at our state of the art 23,000 sf. Indoor baseball/softball facility in Medfield
Fall/Spring/Summer practices 2x per week at any of Medfield fields (Wheelock Field or Schilling Field)
MWT players receive special lesson package rates
Each player allowed 1 hour of tunnel time per week. Players must call in advance to reserve time, no walk-ins (November - June)
Each player can participate in our Strength & Conditioning 1x per week (day specific to team) October - end of March
Teams will play up to 2-3 Fall Tournaments & up to 8 Spring/Summer tournaments (team specific)
MWT tuition must be current to participate in tournaments

Both 18U Teams attend the Mid Summer Showcase in Virginia Beach (4 day tournament) during 4th of July week. Coach Mark and MWT continue to build their relationships with college coaches and tournament directors to help our players pursue playing Softball in College.

Since 1997 Coach Mark has been with Michigan Generals, Central Mass Thunder and MetroWest
Thunder. He has helped many girls go on to play at the college level.


Emma MacLean - Roger Williams College

Courtney Collins-Pisano - Weslayen University

Melissa Taylor - University of Michigan
Serria Whitman - Eastern Michigan
Erin Comment - Madonna University
Lisa Delrue - University of Toledo
Jennifer Deland - University of Toledo
Mandy Ziegler - Hillsdale College
Julie Westover - Hillsdale College
Sarah D'Angelo - Hillsdale College
Gretchen Jondro - Hillsdale College
Sarah Palmer - Concordia University
Kristen Marcone - C.W. Post
Rosie Manzo - Eastern CT
Shana Lathrop - Bridgewater State
Melissa Rogers - Dean College
Sam Galvin - Immaculata University
Ali Paige - Bryant University
Lauren Keast - Bryant University
Lauren O'hea - Bowdoin College
Amanda Gonzalez - Holy Cross
Caroline Fairbanks - Wheaton College
Becca Seifert - Wheaton College
Beth Paul - Wheaton College
Laura Leger - University of Southern Maine
Jordan Shaffer - Assumption College
Kendall Roy - Assumption College
Amanda Voellings - Assumption College
Jenni Jackson - Mt. Ida College
Courtney Moen - LaSalle College
Marissa Simpson - Salve Regina
Shawnna Amatucci - Clark University
Mikaela Caracciolo - Simmons College
Lindsey Read - Endicott College
Lauren Johnson - RI College
Taylor Butler - Pfeiffer University, NC
Katie Puccio - Hamilton College
Sam Bonvino - Franklin Pierce
Kristie Kyzer - UMass Lowell
Alex Kerr - Worcester State
Breanna Shaffer - Bridgewater State
Mycala Moody - Framingham State
Emma Keefe - Eastern Nazarene
Kaitlyn DeCapua - Trinity College
JC Urella - Clark University
Colleen Cooke - Curry College
Marissa Santoro - Simmons College